With LiquidPoll, the first thing that comes to our minds is a fun and engaging site experience! People who are behind the development of LiquidPoll, are always trying to improve your journey with polls and surveys.

To make LiquidPoll even easier for our users, we always try to come up with new ideas and useful features like Typography Control or Graphical Reports. Looking back six months from now, the LiquidPoll team has introduced remarkable updates and useful features for our users.

The most recent feature update is LiquidPoll- Elementor Widget. This widget comes separately for Polls/ NPS and Reaction Polls. Our article today is about these three exciting drag-and-drop widgets.
About LiquidPoll – Elementor Widget: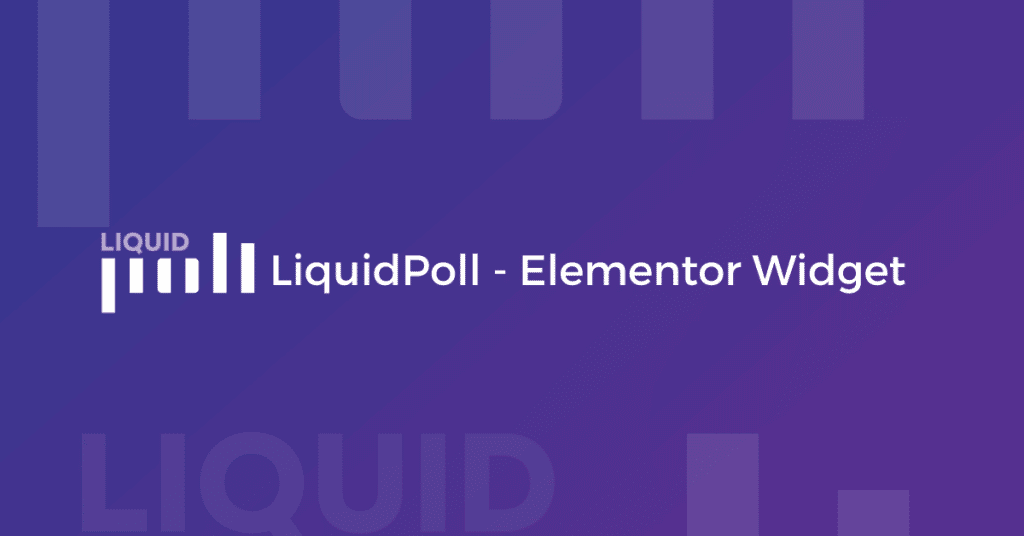 Elementor Widgets: They are the core blocks for building website pages. These building blocks allow you to add any dynamic data – starting from text editors to button blocks. You can also customize data with codes in any way you like. The drag-and-drop feature of Elementor Widgets is fun to use and needs zero coding knowledge. It's a flexible widget for everyone!
LiquidPoll – Elementor Widget is our newly developed Elementor widget. This Elementor widget is divided into three categories. The types are as followed: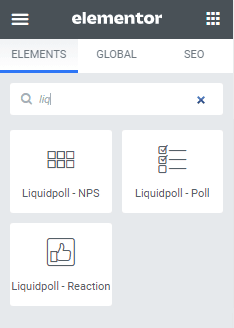 1) LiquidPoll – NPS: Manage all the NPS surveys from this LiqduiPoll – Elementor Widget. You can easily shift from one NPS to another, and change themes. This widget allows you to edit the NPS content with live preview and enable lead gen forms from the settings. All the editing options are the same as the core plugin.
For theme style, you also get to choose the lowest and highest marking text and enable the comment box, and have all the plugin features integrated here as well.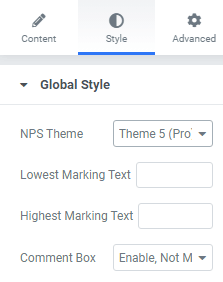 Other widget options are the same as LiquidPoll – Poll and LiquidPoll – Reaction.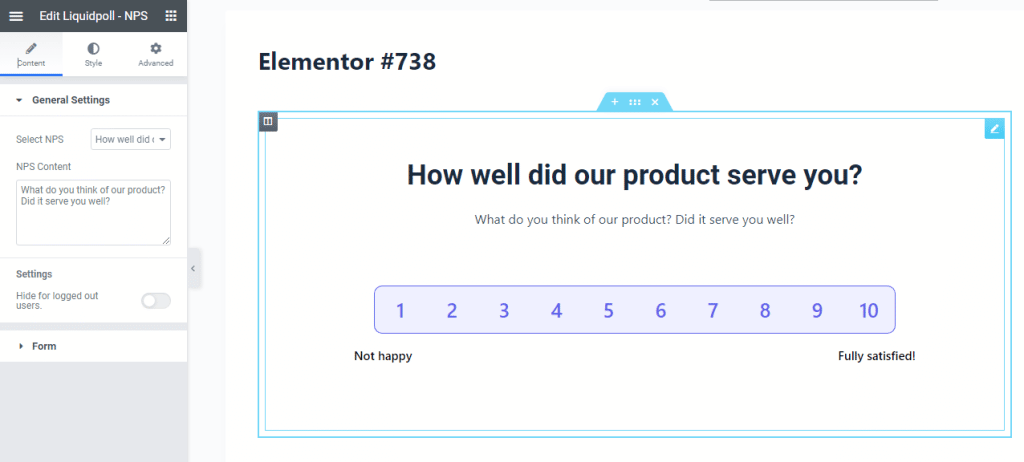 2) LiquidPoll – Poll: With the Poll widget, you can easily manage Polls and place them anywhere on your page. It's the same as the NPS widget. You can additionally add a Deadline and manage the Countdown Position for different polls. These two features are exclusively available with Polls only.
Also, LiquidPoll Pro offers a different Timer Type for Themes 10, 11, and 12. You can also modify this option from this Poll Widget.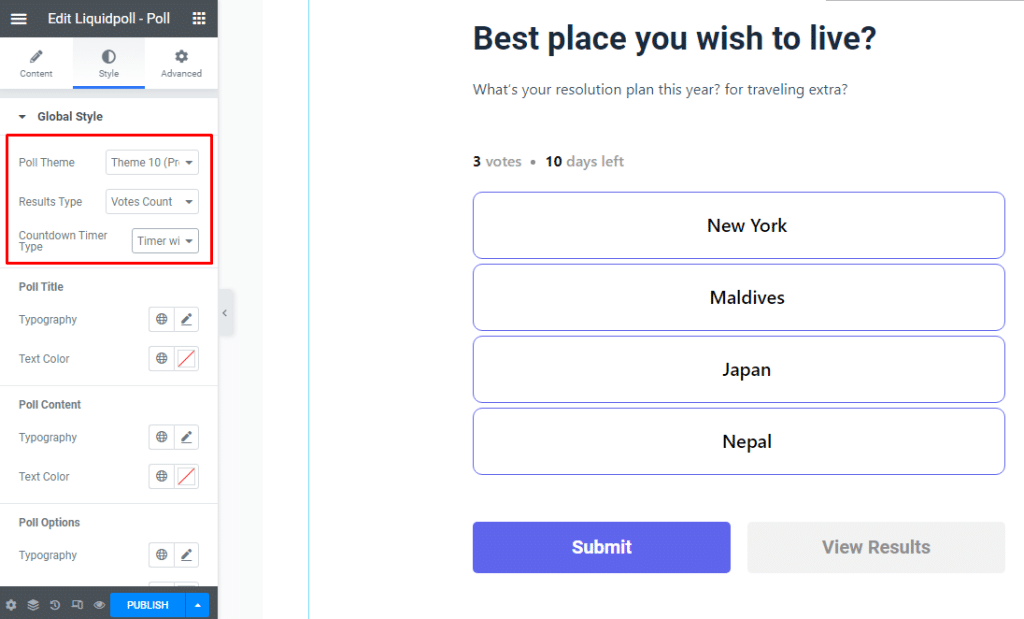 You can also restrict visibility for users and visitors just like you do with our actual plugin. LiquidPoll – Poll Widget integrates all the plugin features here – plus the additional flexibility of the Elementor.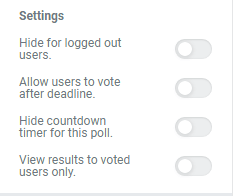 3) LiquidPoll – Reaction: With this Reaction Widget, you can insert Reaction polls in the middle of any page content. LiquidPoll Pro offers three different reaction themes. From this widget, you can select any one of them and work on its customization.
Other setting options are equally available like Poll and NPS widgets.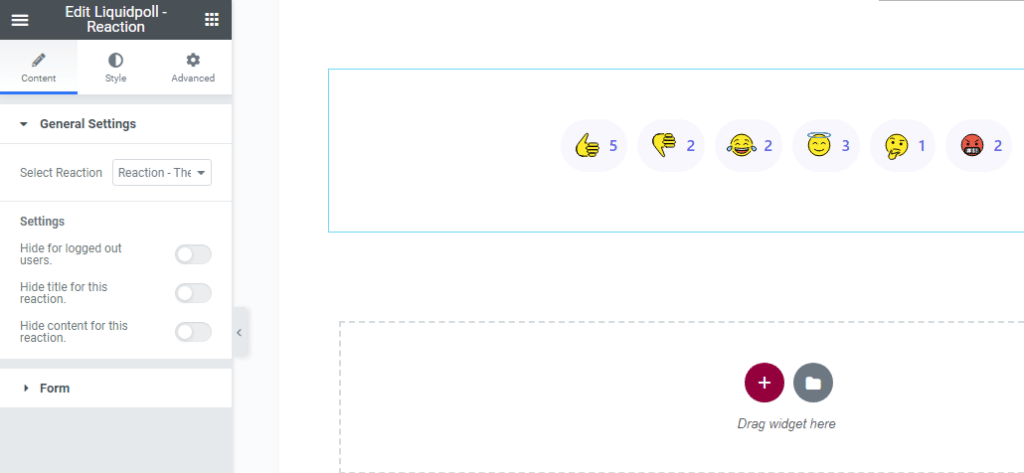 With LiquidPoll – Elementor Widget, you can insert any Polls/ NPS/ Reaction polls and customize them. Modify polls in such a way that's not even available in general plugin settings. Some advanced options are Padding, Border Radius, Margin, and even using Gradient Background or modifying the responsive.
What's Special About LiquidPoll- Elementor Widget?
The idea of the LiquidPoll – Elementor Widget is to offer an exclusive poll management system for LiquidPoll users. Using this widget, you can seamlessly drag and drop any Poll/ NPS/ Reaction Theme (pro only) to any page and customize them as per your wish.

Our motive is to offer an easy solution for all Polls and Surveys. And guess what? Our LiquidPoll team excellently integrated this feature within such a short period.

Now, it's your turn to be aware of all the amazing features of the LiquidPoll Widget. You can easily have it with the updated version of LiquidPoll. Let's take a look at what you all be getting:
Polls/ NPS/ Reaction Organizer: The LiquidPoll – Elementor Widgets are also poll management directories for Polls/ NPS and Reaction themes. Using these three widgets, you can bring all the polls/ NPS/Reactions to the same place and insert them anywhere on your page.

This widget's General Settings actually contain all the genuine settings from the core plugin itself. You can get any kind of Polls/ NPS/ Reaction polls from here and customize them as per your preference. LiquidPoll – Poll, LiquidPoll – NPS, LiquidPoll – Reaction – these three widgets will help you manage and organize polls quickly and interactively.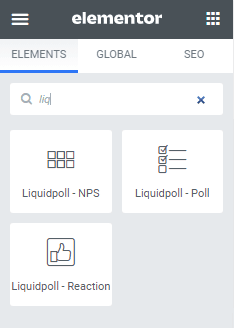 Shortcodes? Not Always: To use Polls on a page, users first have to create a Poll and copy the Poll Shortcode. And then, go back to the Page Elementor, drag the shortcode widget and place the poll id within it.

Now, you can skip all these steps, and drag and drop the LiquidPoll Widgets. Select the desired Poll Widget and insert the Poll on your page with more room for improvement!

Theme Changer: As easy as that! Take a live preview while you change the Poll/ NPS/ Reaction Themes and compare how they appear on the site. With LiquidPoll Widget, now, you don't have to follow the prolonged process. Skip the parts where you have to switch the theme and update the Poll, and then refresh/ reload the preview page to find out how it appears.

Get rid of all the additional steps and make it fast to find out which theme best suits your page.
Integrate Forms: In LiquidPoll Widget, you have all the core plugin features integrated here. It will be a familiar platform where you can manage things seamlessly. Similarly, use forms from LiquidPoll – Elementor Widget just like that!

Enable the Form and insert all the Labels. When you are complete, click "Update." And the Form will be attached to the selected Poll you have. You can integrate Forms with any Poll Type – Polls/ NPS/ Reaction.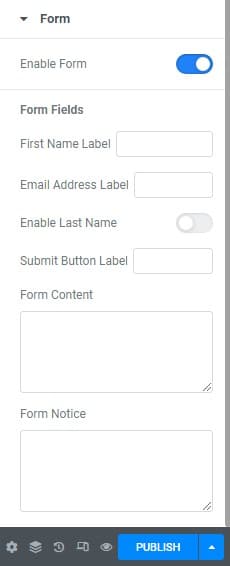 Enjoy all the Elementor Features: The core LiquidPoll plugin offers plenty of typography and color control for Poll style customization. You can bring almost anything out of the default Plugin Style Settings.

With LiquidPoll Widget, we have integrated the default Elementor styling options for polls. Besides having typography and color control over Poll text and contents, you can also enhance the button margin, padding, and borders. This comes along with customizing the Form Styling as well.
Motion Effects: Enjoy all the features like any Elementor Widget. With LiquidPoll – Elementor Widget, you can add dynamic effects to your Polls. Add animation like: Fading, Zooming, Bouncing, Sliding, Rotating, and others.

Also, add other motion effects like Scrolling Effects or Mouse Effects. You can also stick your Poll at any specific page part, indifferent to any device.

If you have used Elementor Widgets previously, you are already familiar with these advanced settings.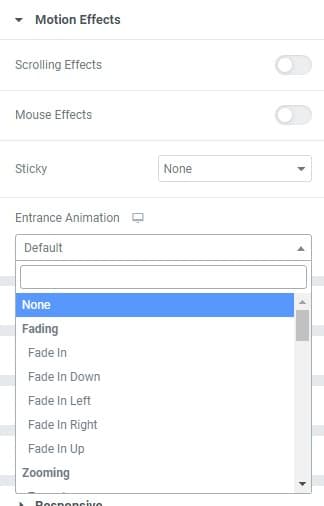 Custom CSS: Custom CSS allows you to bring any custom changes to the Poll appearances without worrying about the plugin updates. Those who are happy with the widget settings can leave this option unattended. But if you want to add a unique look to your Poll, you can put this feature into use.


Responsive: This is an interesting feature! You can restrict your Poll from Desktop/ Tablet/ Mobile. You may want to restrict specific device users from participating in the Poll/ Survey due to different issues. You can use this feature to restrict the Polls from being visible to these devices.
Other LiquidPoll widget features include Poll transform, customizing border, background, masking polls, attributes, WP fusion, and all the Elementor widget setups.
LiquidPoll – Widget: Why Did We Introduce It?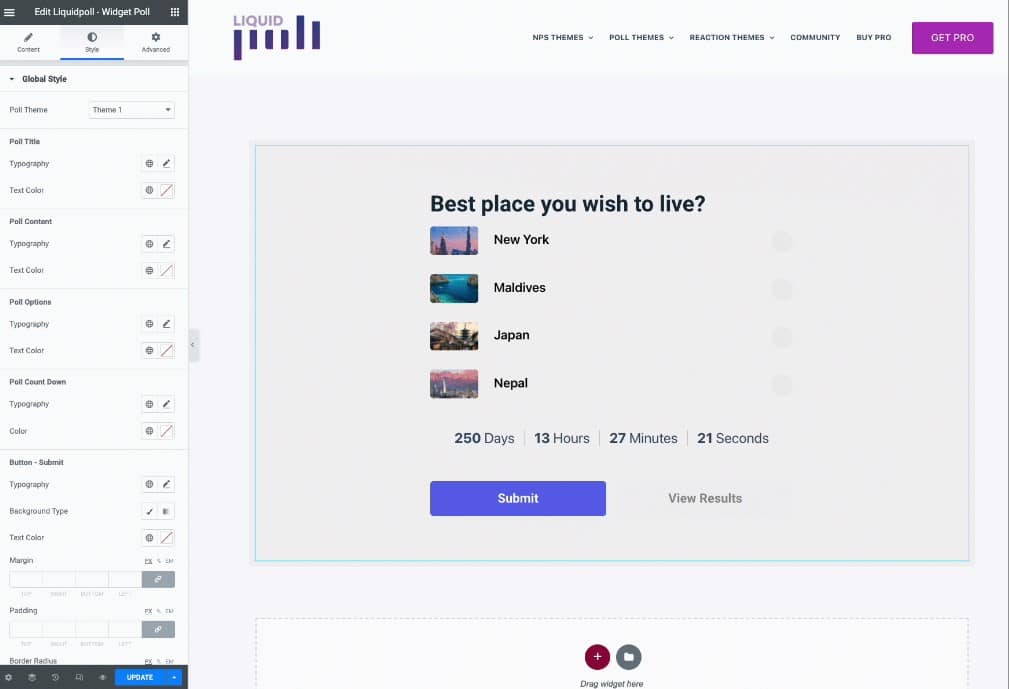 When we came up with the idea of the LiquidPoll – Elementor Widget, our initial goal was to enhance the usability of our core plugin. We want our users to enjoy the privilege of a dynamic and powerful poll management system – LiquidPoll Widget. Based on some major key factors, we developed this Widget to offer a seamless and consistent user experience. We focused on the following:
Integrating all the flexibility of the Elementor Widget.
Ensuring users can manage all Polls/ NPS/ Reaction Polls from a single place.
Enhance LiquidPoll customization options.
Segment the LiquidPoll features in three different categories – LiquidPoll – Poll, LiquidPoll – NPS and LiquidPoll – Reaction for improved and seamless actions
Introducing dynamic features for Polls/ NPS/ LiquidPoll.
An easy widget, accessible for all levels of users.
How Can I Get LiquidPoll – Widget?
LiquidPoll Widget is already live with our latest version, 3.3.50. If you are using our free version of LiquidPoll, update it from LiquidPoll > Install Plugins. It's the same for the LiquidPoll Pro (version 2.0.33).
Once you have updated the free version, go to Pages. And edit any page. Select Edit with Elementor. Here, all the widgets will be available. You will find the LiquidPoll Widgets (NPS, Poll, and Reaction) in the Elementor widget list.
It's as easy as that. There is no need to go through any additional settings or integration options.
Is LiquidPoll – Widget a Pro Feature?
We wanted all our users to enjoy the ultimate benefits of the LiquidPoll Widget. Hence, this feature is available in the LiquidPoll Free also. Here you will get Poll and NPS themes that come with the free version. Reaction Polls won't be available with LiquidPoll Widget. Also, some exclusive features will be limited.

To unlock all the exclusive features of this Widget, it is recommended to purchase and install the LiquidPoll Pro.
Can I Create New Polls/ NPS/ Reaction Polls with LiquidPoll Widget?
No, LiquidPoll Widget allows you to manage all the Polls/ NPS/ Reaction Polls from one place. You can customize them using the general settings of the core plugin through the Widget. Also, enjoy the flexibility of the Elementor Widget at the same time.
So, this Widget is for managing your polls easily and enjoying unlimited customization features from the same place.
Why Are There Three Different Widgets?
At first, we had only one widget for LiquidPoll – Polls, NPS and Reaction. Later, after testing the beta version, we understood dividing this widget functionality into three different categories make it more flexible to use. This way, you can get more space to manage – Polls, NPS, and Reaction Polls ideally. And you can add more room for improvement.
Wrapping Up:
Our developers' team is always focused on improving your experience with LiquidPoll. We want to ensure a hassle-free, simple, and fast poll-generating interface for our users. Hence, developing useful features to improve user experience inspires us to move forward. Our success lies in how effectively these additions get along in the community.
LiquidPoll Widget is such a remarkable feature update. This new Widget introduces revolving poll management and customization system that everybody wants to use! If you have used our latest LiquidPoll – Elementor Widget, do let us know on a scale of 1-10 how well you like it and whether you would refer it to others to use this feasible Widget! For more, reach us to our official support email here.