Here in the 21st century, Polls are an effective measure of customer engagement. Polls are short, quick, and fun to act on. That's why they easily drag the attention of the prospects.

This also leaves you with the opportunity to drive more useful information about your audience which can come in handy in near future to promote your business or send newsletters and many more.
The liquidPoll team utilized this idea to add an amazing feature to creating poll options. Now, you can create polls for the audience and in the meantime offer them to fill up a form and submit the information.
This article is everything about lead generation forms and how you can create lead generation forms with LiquidPoll. So, let's hop on!
What Are Lead Generation Forms?
Lead generation forms are also called lead gen forms. They are often attached to images, surveys, messages, videos, or any documents. Lead generation forms are used to collect information from the prospects when they have already engaged with a call-to-action button on your website. (In LiquidPoll, active CTAs are submitting polls)

If the prospects have already subscribed to your website, forms will be automatically filled up. Lead generation forms are essential for your business. They help you drag more audience and increase the possibilities of generating more leads. Lead generation forms offer a seamless and straightforward experience for visitors. And forms are one of the easiest ways to collect useful information about possible leads and use them properly to increase your brand awareness.
How to Generate Lead Gen Forms in LiquidPoll Pro?
We will use Lead Generation Forms with LiquidPoll Pro today. Although there are many useful features in the LiquidPoll Free version, you can unlock a new set of adventures with LiquidPoll Pro.

In this part of our article, we will know how to generate lead gen forms in LiquidPoll Pro. Follow these simple steps with us:
Step 1: Install the LiquidPoll Pro Plugin
If you have already the LiquidPoll Free version enabled on your WP website, you have to purchase the LiquidPoll Pro version to enable the form. We have a full detailed doc on how you can purchase and install the LiquidPoll Pro version. Read it here. You can also learn about LiquidPoll Pro features overview from here.
Step 2: Create Poll with LiquidPoll
With the Liquidoll Pro version, you can also create NPS surveys besides creating amazing polls. To know more about creating NPS surveys with LiquidPoll, follow this article.
General Settings:
1) To create Polls, go to LiquidPoll> Add Poll. You will be forwarded to a page of "General Settings."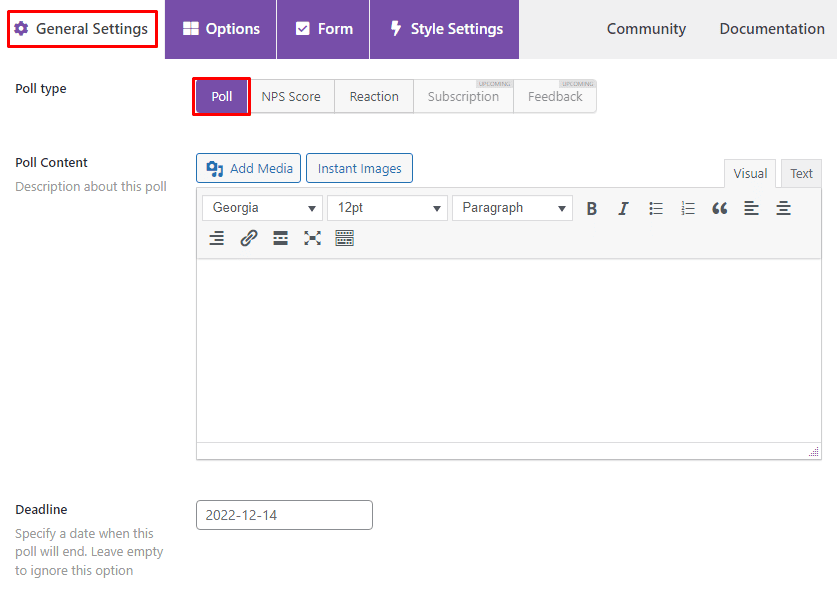 2) From here you can set up the basic information about Polls, set the Deadline, Countdown timer, and many more options to restrict users.
3) Scroll up and you will see a section for Poll Title here. Also, you can add a description for Poll Content from here.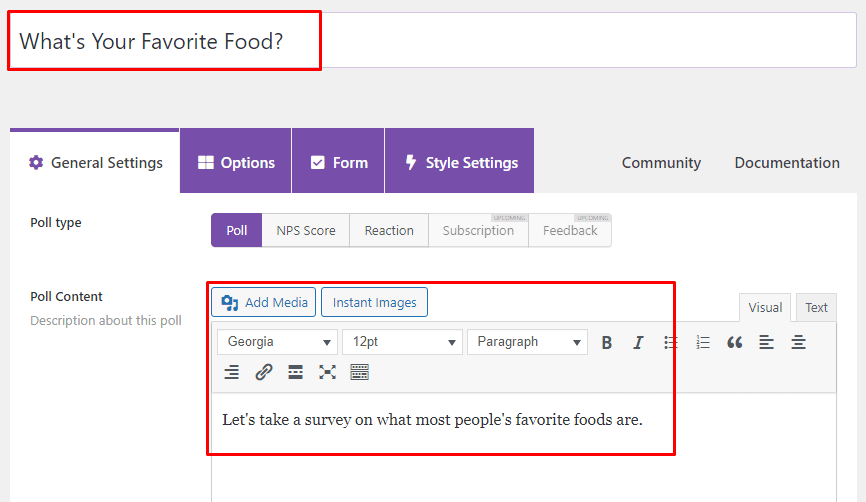 Add Poll Options
1) Switch to the Options Tab. From here you can add different options for Poll.

2) Click "Add Option." You can add multiple Poll options from here. And if your plugin is integrated with CRM plugins like FunnelKit or FluentCRM, you can easily assign tags for different options. Read the detailed doc for LiquidPoll Integration here.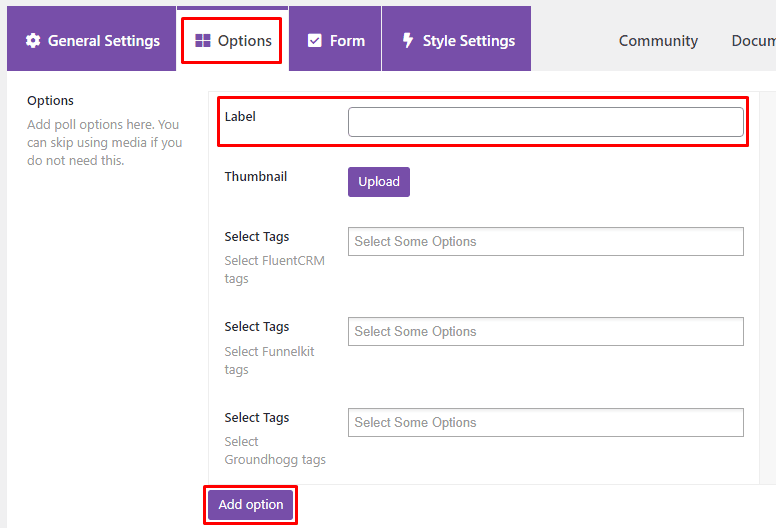 This will create any number of Poll options you would like your audience to choose from. Use relevant thumbnails for every option.
Form
When you have completed adding all the Poll options, switch to the Form Tab. From here, you can enable the Form for adding them with Polls.

1) Enable the Form and a window will appear like this: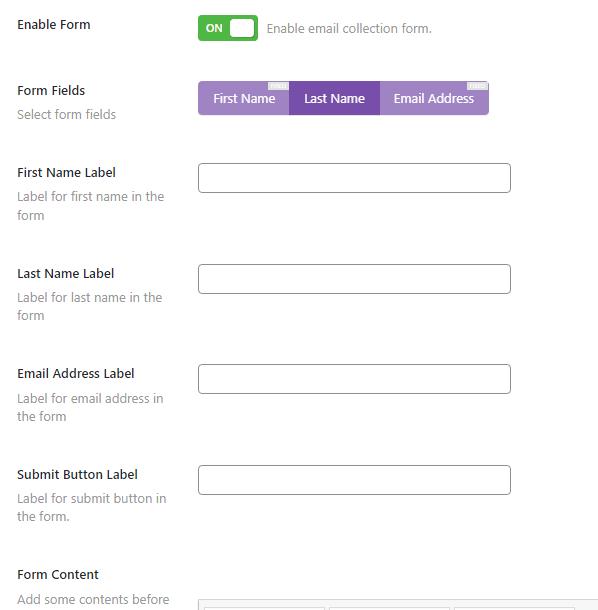 2) When you have provided all the information, scroll down and you will find "Form Styling." Here you will find a variety of options to customize the font typography, color, line height, and other measures to customize the form style.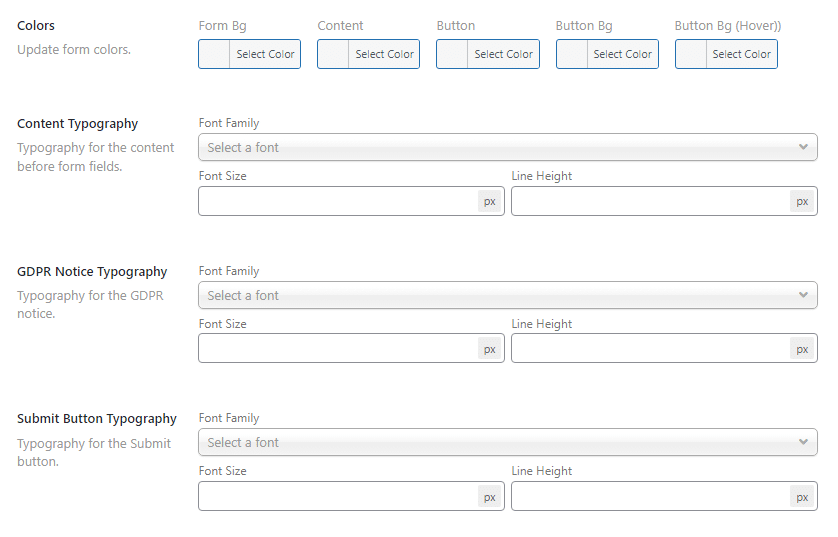 3) When you are done, go to Style Settings. From here, you can select the Poll Theme and customize the theme accordingly. You can learn more about fully unlocked text and color styles from here.
Now you are all set with options and ready to publish the poll. Click Publish. Copy the Poll Shortcode to use it anywhere on your page.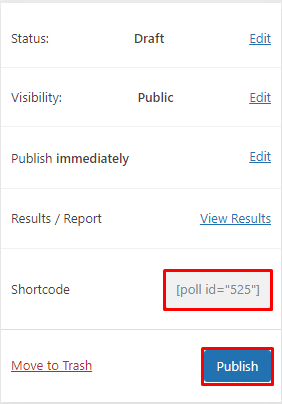 Preview The Form:
When you have published the Poll, you can preview it by visiting the Permalink generated in the Plugin Dashboard. You can also edit the permalink from here.

Visit the permalink and you will find your poll page.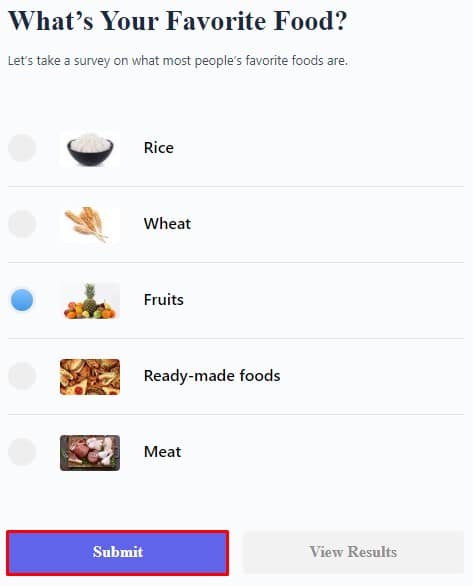 Lead generation forms will appear once you have submitted the poll. And that's how it will look: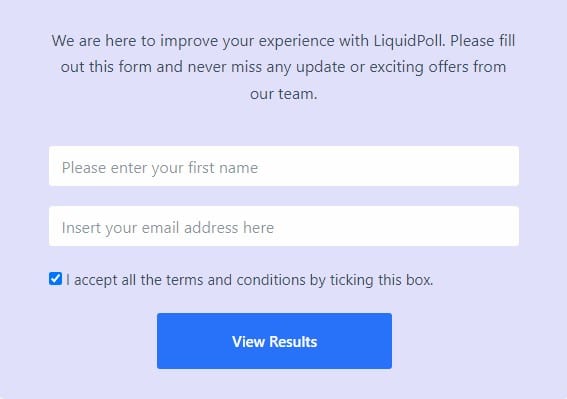 Visitors cannot view the Poll results unless they have filled up the form. To review results, prospects must fill up the form.
Why It's Easy to Use Lead Gen Forms with LiquidPoll?
LiquidPoll is a smart Poll generating plugin. Users can easily install and activate this plugin within just a few minutes. So, if you are planning to deliver an amazing and fun poll generating experience to your WP site visitors, LiquidPoll is the one.

Also, with LiquidPoll, you can also audit your customer behaviour and improve your site performance. And now! with all these features on, you can also utilize the benefits of Lead Generation Forms on your site.

As important as lead gen forms are, using them with LiquidPoll also brings out the most easiest and flexible interface to any user. You can easily create and attach lead generation forms with your polls/ surveys and get important information about those who submitted the forms.
Later you can use this information to reach out to them and promote your brand in a whole new level. This also leaves you with the opportunity to deliver newsletters, any feature update, or announcements to your target audience easily.
And what's more interesting? You don't need any additional integration plugin to attach the forms. All you have to do is purchase the LiquidPoll Pro and unlock other exciting features like Lead Gen Forms.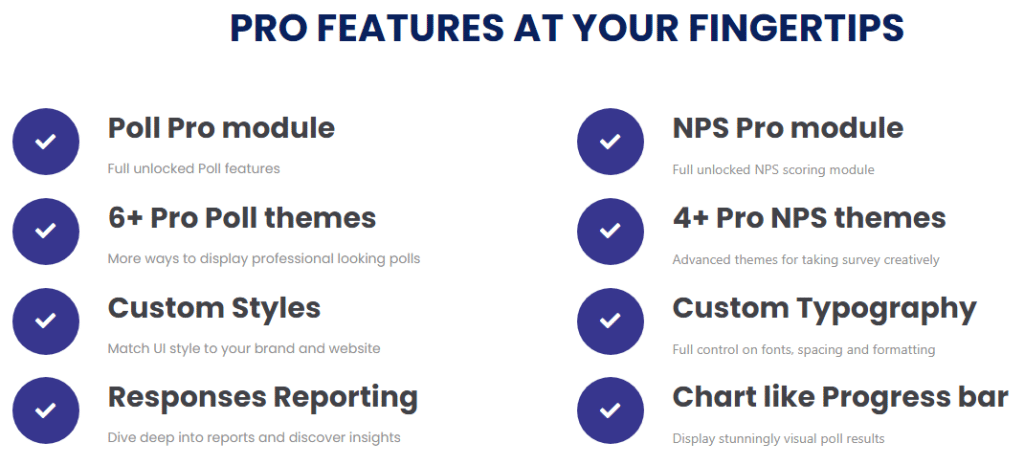 Our affordable budget plan will make things easier for you to integrate and deliver an amazing experience to your site visitors.

This is all for today. You can know more about LiquidPoll and its features at our official website. If you have any inquiry in your mind or need any kind of support using LiquidPoll, feel free to contact us.
Would you like a 20% discount to get LiquidPoll Pro?