Earlier, we learned about what NPS is and how it helps your business grow. Today, we will learn how to create NPS Survey with LiquidPoll and Why LiquidPoll is the best solution for creating NPS Polls.

People using websites to reach their target audience must have smart evaluation metrics that can equally analyze data and offer a fun experience for the customers throughout the survey. When it comes to owning a WordPress website and thinking about integrating a CX measurement metric, LiquidPoll is the best option for anyone!

LiquidPoll is an ideal plugin for poll generation, why? Let's take a look below:
Why Choose LiquidPoll to Create NPS Survey?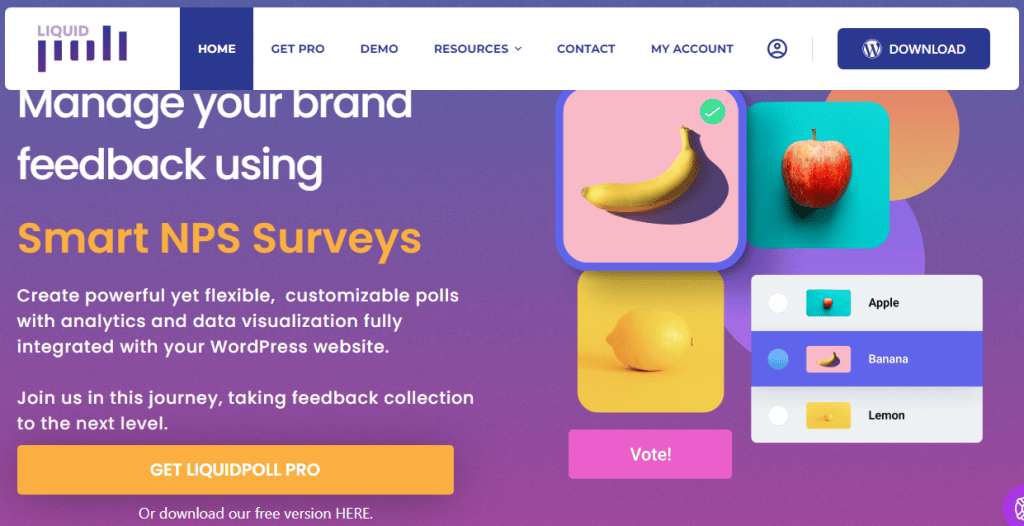 LiquidPoll is one of the most brilliant WordPress plugins to create Polls and NPS surveys. The plugin is easy to use and install but the results are long-lasting and help you visualize the strength of your brand.
This plugin is available both in the free and premium versions. You can create interactive polls in the free version of the plugin. However, LiquidPoll Pro lets you create advanced polls and NPS surveys and customize them according to any style you like.
Here are 5 reasons why you must choose LiquidPoll for NPS surveys:
Trouble-Free Interface: LiquidPoll is the one for you if this is your first time with a poll-generating plugin. It is a very quick and smart plugin for anyone to operate. No need for any integration plugin or any add-on. Create smart polls and NPS surveys here and share them with simple shortcodes.

Features in LiquidPoll are efficient and there is a full walkthrough for LiquidPoll free and pro versions; which will help you all the way to creating amazing NPS surveys and customizing them.


1 Min to Generate NPS Polls: It takes only 1 min to create and publish useful NPS surveys from your website. LiquidPoll offers an intuitive interface that any user can seamlessly use. From the installation of the plugin to creating amazing NPS polls, it takes only a few minutes.

Allow your customers to take part in a fun survey and submit their valuable feedback on your company within a flexible journey. You can easily view the reports (free version) and export them (premium version) to keep track of your brand's growth. And take effective measures based on the report to fill the gaps that have been preventing the potential growth of your company.


6+ Pro NPS Themes: You are featured with 4+ Polls and 1 NPS theme in LiquidPoll free. This is sufficient for a single website. However, in order to bring variety and integrate different NPS themes into your WP website, LiquidPoll Pro offers you 6+ NPS themes.

Additionally, you can set the range for the NPS survey in different scales. NPS surveys usually range from 0-10 on a scale. But with, LiquidPoll, you can set the scale to any height – 1 to 5 or 1 to 10. However, the integers have to be positive. LiquidPoll doesn't support any negative insertion of integers.


More Room for Customization: Remember when we told you, with LiquidPoll, you can have more options for customizing and modifying the NPS polls? Well, here it is.

LiquidPoll Pro offers you the ultimate Typography and Color Control; where you can have infinite options for organizing the NPS polls by font size, font family, custom color – anything you like. Even Google Font Integration is also possible while you modify the typography.


Track Survey Reports and Monitor Business Growth: With LiquidPoll, it's effortless to track survey reports and collect them as resources over a long period of time. NPS helps you to gauge customer sentiment or get any feedback for your valuable support/ service/ products.

This useful information helps you to monitor customer behavior and determine what steps should be taken effectively to improve the lack of your service. With LiquidPoll, tracking survey reports is very easy. The liquidPoll free version allows you to view the reports over any certain period. Whereas, with the Pro version, you can download the results in CSV. You can use this information to compare your company's growth with other competitors and make room for improvements.

Now, we know how LiquidPoll helps you to create flexible NPS Polls. Let's learn more about how you can create NPS Polls with LiquidPoll.
How to Create NPS Survey with LiquidPoll:
Creating NPS polls with LiquidPoll is easier and only takes a few simple steps. Follow these steps with us and create interesting NPS polls:
Step 1: Plugin Setup
To install LiquidPoll Plugin, follow the links below:
The overall installation process is easier. To know more about LiquidPoll Installation, follow our official docs here.
Step 2: Create NPS Survey with LiquidPoll
Once you have installed LiquidPoll successfully, you will find it in your WordPress Dashboard. You will have different setting options from here: Poll Category, License Management, Reports, and Addons.
But to create NPS Survey, we will start with Add Poll.
1) Go to LiquidPoll > Add Poll.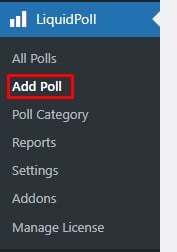 2) You will have a window with General Setting. Go to Poll type and select NPS Score.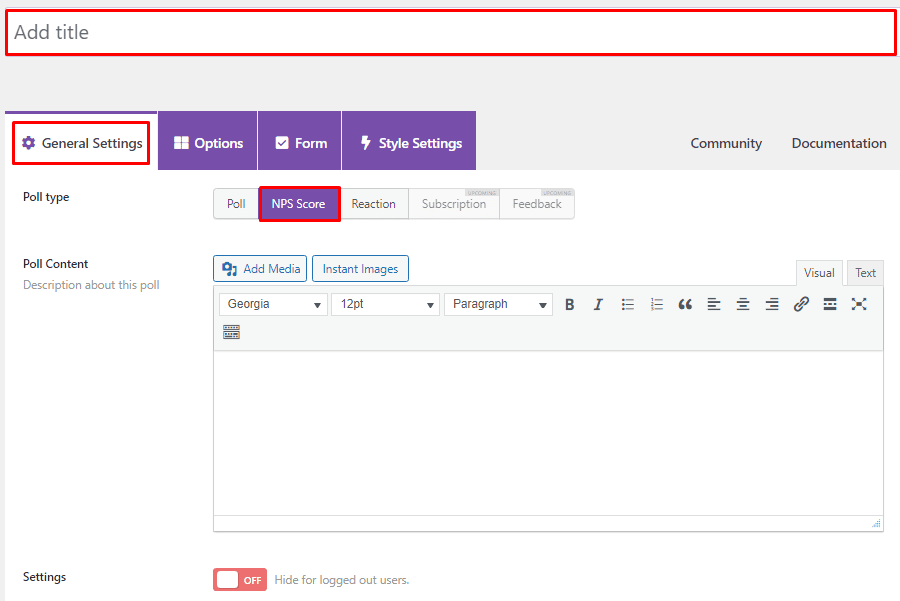 3) Type a title for the NPS survey. For example, On a Scale of 1-10; How Good NPS Score is For Your Business?
From here, you can also select Add Media and Instant Images to increase the value of your NPS Score.
4) Go to Options. Here, you can see a list of Labels. You can set Labels from 1-10. LiquidPoll allows you to add 10 Labels for a single score. You can also set different CRM integration from here to segment poll responses according to your preference. To know more about CRM integrations, visit here.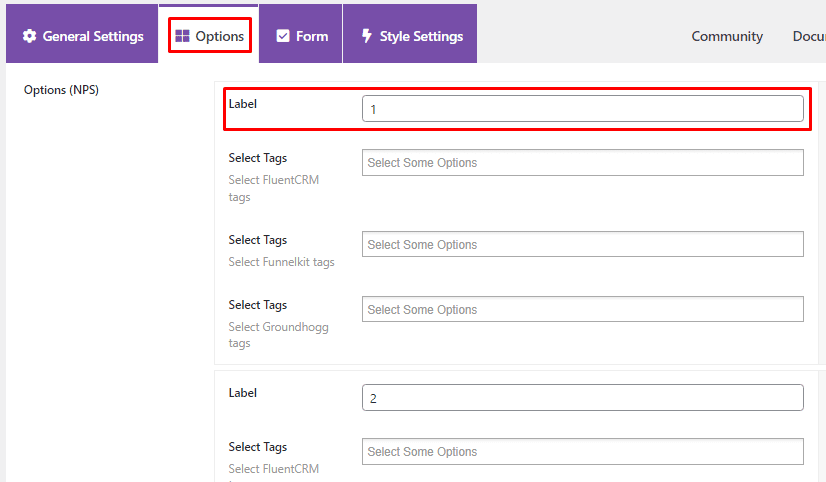 5) You can also enable forms for attendants to collect information about them.
6) Go to Style Settings. Here comes the part where you can modify and customize the NPS score according to your preferences.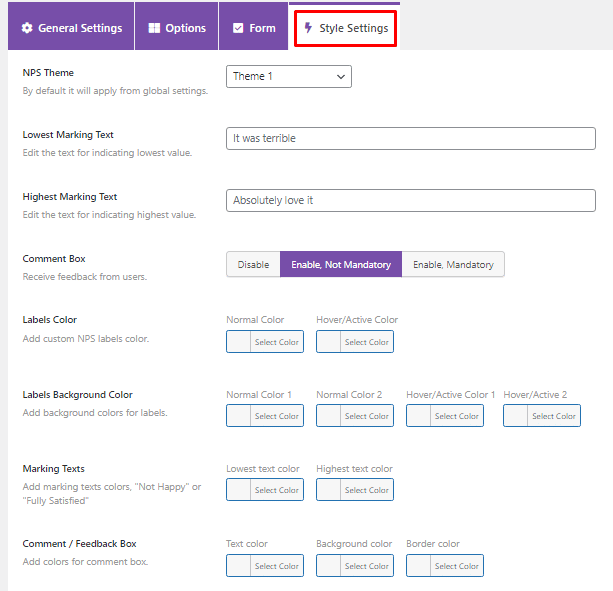 Customize the score as you will. Set lowest to highest marking text, enable custom box if necessary, set up color for labels, and make other modifications to customize the NPS score. Also, select the NPS theme from here.

In LiquidPoll Free, you can have only 1 NPS theme whereas, in LiquidPoll Pro, you can enjoy 6+ NPS themes and polls.

You can also select and customize the Poll Title and Poll Content style from here.
7) When you are done with all the settings, select "Publish", you can also copy the Shortcode from here to integrate the NPS score in any part of your website.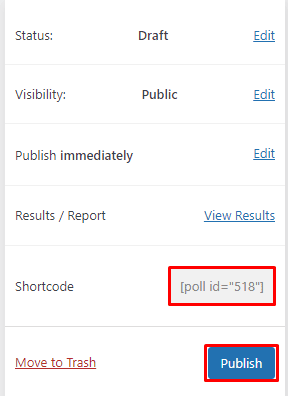 Setting Up Permalink: You can get the permalink from here, below the NPS title. You can easily edit the permalink from here and shorten it as you like.

Step 3: Review Your NPS Score
Go to the permalink or use the shortcode in your page/ post and preview the link to check out the NPS score you have just set up.

Now, customers can preview the NPS score and submit their opinion for any inquiry in just a few seconds.
Getting Survey Reports:
Checking up on survey reports from LiquidPoll is very easy. Go to LiquidPoll> Reports. From here, you can filter the poll results to NPS and get a specific result for a certain period.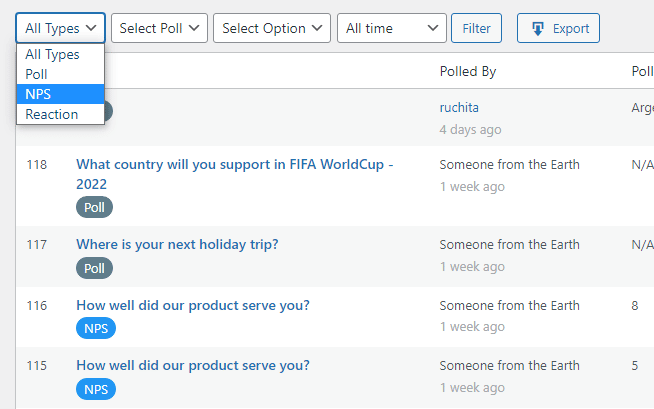 You can view the results here. Or simply export them as CSV to keep a record of the survey results to use later.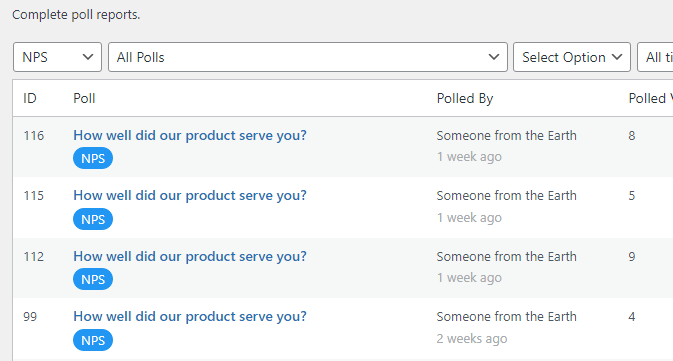 Here is your complete journey from installing the plugin to publishing NPS Surveys. You can use the shortcode anywhere and get valuable feedback from your customers. This is an essential metric to monitor the overall growth and health of your brand.
Get LiquidPoll Today!
LiquidPoll is a very easy-to-use plugin. You can get it in the WordPress repository or purchase the pro version to unlock the advanced features.

We have set a budget-friendly plan for anyone who is to start their journey with the poll-generating plugin. You can check out our affordable budget plan. To get LiquidPoll, visit the links below:
For any kind of support regarding the plugin installation or using a feature, please contact our support team here.

NPS is an amazing addition to measuring the important KPIs of your website. Using them with LiquidPoll makes it even easier. And allows you to smoothly track the reports of NPS surveys.

Following this article, you can seamlessly create effective NPS surveys for your business. To play with the NPS themes beforehand, visit this site and check it out for yourself. 🙂